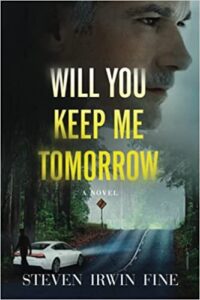 Will You Keep Me Tomorrow
Chester Jones drives his new car to the forested slopes of the Dandenong Ranges in Victoria, Australia, in order to deliver an extravagant gift to a client after clinching a massive business deal.
On the side of the road he discovers something that will change many lives, most particularly that of his and his wife's.
In the meantime, a shark-eaten body of a woman is washed up on a beach by the Great Ocean Road and Detective Bruce Nash is called in to investigate. A few days later the forensic pathologist breaks news to the detective that will change the course of the investigation.
Nash eventually retires to the Dandenong area without having ever solved the case. On a walk one day, Nash is shocked to see someone that is a carbon copy of the woman that washed up on the beach years before.
Will You Keep Me Tomorrow will take the reader on a journey of wealth, poverty, romance, surprise and murder across the globe.
Steven Fine has held careers in exhibition security, retail, and public relations in South Africa, before finally finding his passion in safari expeditions and travel writing. Steven has written many articles for international travel magazines based on his nature experiences when he was in the safari industry in South Africa. Through his work there he met prominent figures such as Nelson Mandela. On moving to Australia, Steven is a motivational speaker based on his unique life and experiences.