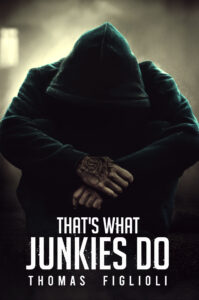 S brutally honest, often dark journey of one man's struggle with alcoholism and drug addiction. The story starts innocently enough in 1980's Brooklyn, NY, with a young boy, Thomas Figlioli, making a bad choice so he could gain the respect of a group of kids he looked up to and admired. Alcohol gives him the courage to be the person he always wanted to be. His fear and insecurity leaves and his lifelong struggle begins.
Being a good student, Thomas lands a scholarship to Pace University in Pleasantville, New York, where his alcohol use and hard partying ways increase with each passing day. When things start to turn sour in Pleasantville, he moves back to Brooklyn for a geographic change. It is back in his old hometown that his life starts to unravel at a steady and almost torturous pace. After losing a promising career in the financial industry, his life turns even darker, eventually being hospitalized in a psych unit for alcohol and cocaine use. Once released he immediately reverts to the same ways. Thomas's life becomes a vicious cycle of addiction, graduating to harder and more damaging drugs. There is nothing he won't do and nobody he won't hurt. When thoughts of ending it all become a better choice than living how he is, Thomas finally asks for help and gets it through a program of twelve step recovery. He comes back to life only to fall back into his old ways a few short years later.
Now, a grown man and upstanding citizen, with a career, a fiancé and people who count on him every day, Thomas secretly navigates his way through a seven-and-a-half-year struggle with various prescription medications, eventually finding his way back to recovery and the life he always prayed for when times were at their worst.
Thomas M. Figlioli, a first time author, grew up in Brooklyn, New York. He attended Pace University in Pleasantville, New York and graduated with a Bachelors Degree in Business Management. After a brief run in the financial industry and various odd jobs, he turned to a career in civil service. Today, he is a fifteen year veteran of the New York City Department of Sanitation. After his lifelong struggle with alcohol and substance use, he finally found his way into recovery. His passion for writing as well as sharing his story with others led him to pursue his dream of becoming a published author and write his memoir.