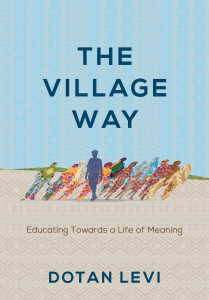 How can we turn a school, group, or community into a "whole village" experience for teenagers in the disjointed reality of the 21st century? This book is an invitation for educators to enrich their skillset and broaden their thinking, helping them to become more supportive, authentic, and professional educators.
The Village Way is a unique educational methodology that is being utilized in dozes of high schools and youth villages serving youth at risk from diverse populations of Israeli society. It is being taught at the universities and is used by municipalities, youth movements, and Israel's security forces. The Village Way serves as a blueprint for educators, guiding them to provide teenagers and young adults with a cohesive feeling of wholeness, a sense of purpose, and the tools to become contributing members of society.
Dotan Levi, an educator with more than 20 years of experience working with immigrant and at-risk youth, has served as the director of the Village Way Educational Institute for over a decade. He previously served as an educator at Yemin Order Youth Village, and later as head of informal education and assistant principal. Dotan holds a B.A. in Education, and has an M.A in Philosophy from the University of Haifa. This book is a reflection of his experience and that of many of his colleagues–educators who work tirelessly to help young people look ahead towards a better future.