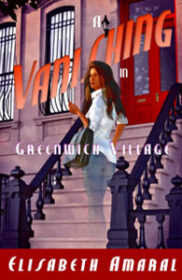 A Vanishing in Greenwich Village
Ellie Allington is a successful Manhattan real estate broker. On the summer evening that she hosts dozens of guests for her husband Patrick's birthday, she decides she will no longer live with his infidelities. This determination begins to replace years of loneliness and depression with anger and the strength to find herself again.
A few days after the party she receives a call from Valeria, apparently about real estate, inviting her to a nearby loft. However, Valeria has other, mysterious reasons for making contact. Ellie finds herself drawn to this delicate, beautiful woman and at Valeria's request prolongs her visit. That decision is a fateful one. When the actual owner arrives, he is accompanied by Antonio, a retired police detective. The power of Ellie's attraction to Antonio startles and overwhelms her. As their relationship begins, both of them are drawn into the web of Valeria's troubled past.
This is a story about relationships-Ellie's relationships with her family, her tenants, real estate, and her ill-fated friendship with Valeria. It is the story of a woman rediscovering her strengths, her passion, herself. Most of all, it is a love story.
Elisabeth Amaral has designed jewelry, co-owned both a children's boutique and a restaurant in Harvard Square and was a real estate broker in New York City for many years. She is the author of a children's book, a collection of short stories, and a memoir. She curates and co-hosts a reading series at Otto's Shrunken Head in the East Village.