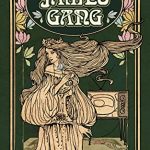 Hersey James is the patriarch of both a TV family, and the family that mirrors them in real life. Apart from Glenn, who was only a child when The James Gang was cancelled from network TV in the late 1970s, the rest of Hersey's fictional daughters were played by actors based on their real life counterparts.
Kitty, his middle daughter, was replaced by Henry Elliot, and Beatrice, his oldest daughter, was replaced by Gretchen Williams. Both Beatrice and Kitty were scarred from spending the bulk of their childhoods in the shadows of the celebrities that played them on TV. They despise their father and have abandoned their childhood mansion and their youngest sister to escape their own trauma. That is, until Beatrice makes an unexpected return to the mansion with an old friend by her side, and a contract in her hand.
Beatrice pitches The James Gang: The Next Generation to her father. Newly sober and enraptured by the desire to mold her father's legacy into her own image, Beatrice offers her father one last chance to recapture his old fame. But this offer comes with a catch: In order for the new show to get off the ground, Beatrice must replace Glenn as the youngest sister on the show.
In the vein of stories such as Fanny & Zoe, King Lear, and Succession, The James Gang explores family dynamics, trauma, and the power of healing in a character driven, time-jumping story that is rich with theatrics, humor, and nods at contemporary culture.
Tim Donahue was born in Kenmore, Washington in 2001. He began his writing career as an English Major at Western Washington University in 2020 when he released a triptych of poetry books: An Education, The Clipper of Wings, and Imploring. The James Gang is Donahue's debut novel, though his writing shifted almost entirely to the worlds of fiction and journalism in the Fall of 2021. With such a major output at a young age, Donahue is quickly cementing himself as one of the next generation's most prolific writing talents.