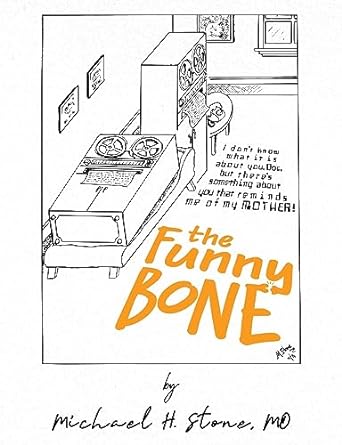 Discover the extraordinary world of renowned psychiatrist and author Michael Stone, MD as he showcases his unique blend of humor and insight in The Funny Bone. Stone's comedic gifts have been honed since his early days as a medical resident in the 1960s. Sophisticated, perceptive, and sometimes downright absurd, his cartoons show equal reverence and irreverence for the psychoanalytic session: imagining an analyst alligator in the Jurassic Period, a computer listening to its anxious computer-patient on the couch, and a sort of Freudian meat grinder where everything that goes in (Morality, Aggression, Work, Dreams) comes out as Sex.
Beyond the confines of the couch, Stone's cartoons touch on Eros, the pleasures and troubles of big city living, aging, and above all, a delightful menagerie where animals reign, including an erudite pig who shuns pig Latin in favor of Cicero and Caesar's eloquence.
Animals also populate Stone's humorous writing, such as his Animalimericks, an alphabetical journey from Armadillo to Zebra, charmingly illustrated by Jonathan Peck. Other offerings include an inspired array of verbal and visual puns, a playful poem on philosophers from Ancient Greece to the present, and a perfect four-word summation of life.
Whether you're a psychoanalyst or in analysis, a New Yorker at heart or a lover of The New Yorker, Michael Stone's The Funny Bone is a hilarious compendium that can be absorbed in one sitting or savored slowly; either way, it's a book to be revisited, again and again.
Michael H. Stone, MD, is professor of clinical psychiatry at the Columbia College of Physicians and Surgeons. He is the author of 13 books, including The Anatomy of Evil, and over two hundred professional articles and book chapters. Formerly the host of the Discovery Channel series Most Evil, Dr. Stone is regularly featured in media outlets such as the New York Times, Psychology Today, CNN, ABC News, NBC News, and the BBC.