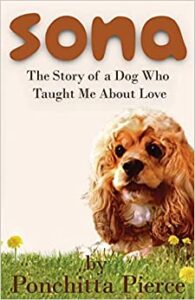 It seemed Ponchitta Pierce had everything–an apartment in midtown Manhattan, a television show, editorial assignments for a wide variety of U.S. magazines, and a significant relationship. But despite her full life, something was missing.
One day, while walking down Lexington Avenue, she did an about-turn when she saw a buff Cocker Spaniel with liquid brown eyes, gazing at her through the window of a pet store. That was it. She was missing puppy love!
In this heartfelt story of the love between a sly, clever dog and a very busy journalist, Ponchitta includes important, well-researched advice on raising a dog tackling everything from training, feeding and looking after a puppy to handling medical situations insurance, aging, and, ultimately the grieving process.
Ponchitta Pierce is known as a journalist, television host and producer and media consultant. She has worked as an editor and writer for national publications such as 'Ebony, ' 'Parade, ' and 'Reader's Digest.' Miss Pierce worked at CBS News as a Special Correspondent and at WNBC-TV in New York, where she hosted and co-produced the daily television show Today in New York. She is also the author of ' Keep Going No Matter What: The Reginald F. Lewis Legacy 20 Years Later.'