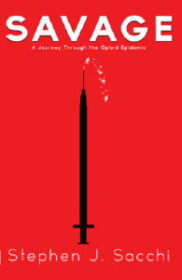 Savage: A Journey Through the Opioid Epidemic
SAVAGE: A Journey through the Opioid Epidemic is a wild, wild ride of how one gifted young person, from a good home, got caught up in the drinking and drugging of our time, only to lose friends, to come near death himself, lose his education and shot at careers, a girl he loved, his family's hopes and respect, and then to lose faith that he could ever recover. At times funny, this book is a harrowing ordeal of how drugs and their allure will not let you go until it causes major havoc.
Sacchi finally gets straight "sick and tired," as the expression goes, of the pain of not being who he really is, he stays straight. Full of compassion for those who stand by him, for friends who die from it, SAVAGE tells us more of what this addiction does than any statistic. Read it and weep and learn and bless all those who make it. Also enjoy Saachi's wit and eagle eye for all the antics he had to go through just to survive.
Stephen Sacchi grew up on Staten Island, New York. He briefly went to Hofstra University, has performed in comedy clubs, and been a general menace to society, often in hilarious ways, thanks to one of the toughest addictions one can have. Thankfully, he beat the addiction and is sober a day at a time and now writes and works in the recovery field.