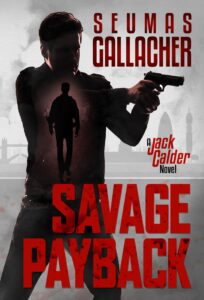 When a series of coordinated, lethal bomb attacks hit a dozen jewelry's stores in London's West End, Jack Calder and his team are drawn into a deadly web of murder and international drug smuggling.
This new, action packed thriller presents Jack Calder, a former SAS officer now running an specialist security firm, International Security Partners.
Jack and his team identify the bomber as an ex-colleague turned renegade mercenary, with a twisted lust for revenge, who joined forces with a powerful and dangerous drug baron from Eastern Europe.
Soon, the emergence of additional lethal enemies and attacks closer to home heighten the urgency for Calder and his team to find their enemies, and deal the final savage payback.
Seumas Gallacher escaped from the world of finance, after a career spanning three continents and 5 decades. Now he is a well-travelled Scot, author, blogger, and amateur guitarist. He has published 5 books in the Jack Calder Series.