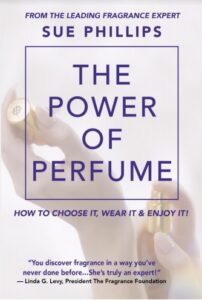 Have you ever walked down the street and you suddenly stop in your tracks because you encounter a familiar fragrance? Perhaps a scent wafting in the air reminds you of the memory of your first kiss? Or the whiff of baby powder immediately takes you back to a beautiful newborn? Do the iconic perfumes of Chanel #5 and Shalimar remind you of your grandmother?
This has happened to me several times where I live in Manhattan, and every now and again I will have an 'olfactive moment' and suddenly I smell an aroma that takes me back to my childhood in South Africa.
This book is a compilation of my love of perfume and the answers given to the numerous questions asked by so many people who are fascinated by this marvelous subject, of how to choose it, where to wear it, and the many fragrance lovers I have met over the years whom I know will enjoy it. I hope you discover the magic and mystery of this extraordinary and powerful sense as you come with me on this fragrance journey.
Sue Phillips, born and raised in South Africa, is an author, Motivational Speaker, Fragrance Expert, Woman-owned business and Scentrepreneur(R). Sue shares her expertise and knowledge to help individuals and organizations accelerate growth, promote wellbeing and empower their clients and employees to be the BEST they can be, through our most powerful sense! Sue has appeared on television and is an inspiring speaker. Ideal for Sales Meetings, Teambuilding, Corporate Events and Keynote Speaking engagements.