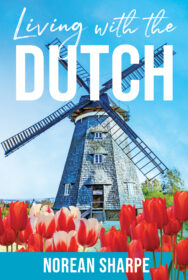 Living with the Dutch is about a woman who travels to Europe as an expat and rediscovers the meaning of life, love and happiness.
Before moving to The Hague, Norean had it all – one career, one dog, two kids, and two sets of in-laws – who could ask for more?! After she decides to leave her job and follow her husband to Europe, she gains a new perspective on life. The Netherlands turns out to be just the right environment for her journey.
This book is a touching and humorous account of a family learning to tackle expatriate problems as they learned to understand and love a new country, its people, and its culture. You will laugh and cry as she wittingly relates her observations of the Dutch and muses about her attempt to balance her roles of wife, mother and mentor.
This book is a must read for any American preparing to live abroad who wants to take full advantage of the experience!
After living in The Netherlands for nearly two years as an expat and deciding to return to the U.S., Norean returned to her academic career. She is the author of textbooks and numerous scholarly papers in her field of statistics and the history of women in science. Norean has taught at Bowdoin College, Babson College, Georgetown University, and St. John's University.Norean continues to teach and her friendship with her Dutch neighbors has remained strong. She resides in East Hampton, NY and Washington, DC. and has returned to Europe often to visit her Dutch friends and travel. The first edition of 'Living with the Dutch: An American Family in The Hague' was published by KIT Publishers, Amsterdam in 2005.