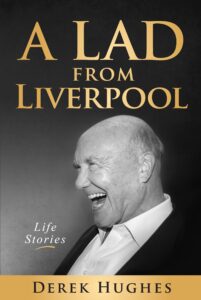 A Lad from Liverpool is a collection of life stories about a boy growing up in a large, poor, happy family and having rather a good time of it all.
His journey takes us from the streets of wartime Liverpool, England to the sidewalks of 21st century New York, through the failures and successes in his various careers and the grief and joy in two long marriages.
It is a story about taking risks, enduring loss, starting over and above all, having fun.
Derek Hughes emigrated from England in November of 1961 with his wife Marion when they were both in their twenties. He became CEO of Western World Insurance Group after a long career in the industry. His 2006 book "Absolute Beginnings" documents the early history of the company. For several years Derek and Marion lived in Ramsey, New Jersey where the company was based. Following his retirement in 1994, the two then moved to midtown Manhattan. Marion passed away in 1997. Derek has three children, Robin, Adam, and Jennifer, and five grandchildren. He now lives in Washington, Connecticut with Helen, his wife of 23 years.