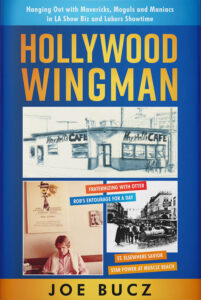 As a college student in Southern Illinois, Joe Bucz indulged in two passions: watching the movies of his favorite actors, Warren Beatty, Robert Redford and Steve McQueen, and following the careers of his favorite college QBs like Pat Haden, Mark Harmon and Steve Sloan. His dreams of meeting his idols would soon become a reality, as he landed a job at the famous talent agency in Los Angeles, William Morris.
Hollywood Wingman shares the story of Joe's whirlwind career, from being an assistant to Clint Eastwood's agent, reading his way up the ladder for the producer of The Sting, working in the sales office for the Buss family and the Lakers, and finally, thanks to his mentor Bruce Paltrow, partnering with Mark Harmon at Paramount studios. This fascinating memoir will take you behind the scenes in Hollywood from the 1970's to the early 2000's.
Joe Bucz worked in Los Angeles for 35 years, where he met and befriended numerous stars and celebrities.  He also worked for the maverick owner of the LA Lakers, Dr. Jerry Buss. Some of his accolades include, a credit on a feature film, an announcement on the front page of the Hollywood Reporter, his profile in the Paramount Studios newsletter, and several pieces printed in the LA Times.