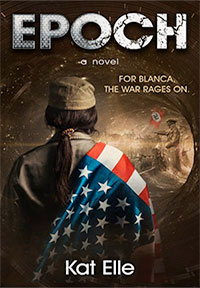 After a traumatic deployment in Afghanistan, twenty-three-year-old Army medic Blanca Hernandez is ready to leave the life of a soldier behind so she can help her younger brother Mateo start college. His orientation goes awry when a secret university experiment malfunctions and sends Blanca, Mateo, and several others back in time to Nazi-occupied Poland. Just like that, Blanca is back in a war.
Readers' Favorite:
Kat Elle displays an impressive ability to weave a gripping tale. Even though it is a work of science fiction, it manages to retain the aura of a nonfiction story with Elle's use of some particularly graphic storytelling to bring one of the most disturbing episodes in human history to life. Her characters are quite impressive with their origin stories thoroughly explored in a manner that made it easy for the reader to identify with their motives, no matter how twisted they appear…With its immersive storyline and intriguing subplots, Epoch stands out as a novel in a class of its own.
Kat Elle is an American writer and educator based in Georgia. She has a master's degree in English Language and Literature from Georgia College & State University, and she teaches both domestic and international students in courses ranging from American Literature to English as a Second Language. She also spent time teaching in Tokyo, Japan, where she studied ancient Japanese writers like Murasaki Shikibu and Sei Shōnagon.