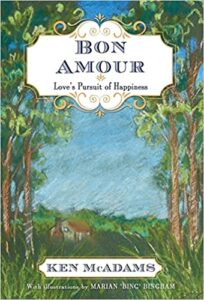 Ken and Bobbye met on the beach at Waikiki. Ken was a Marine fighter pilot and Bobbye was a teacher from Tennessee working on her masters in Theater. They chatted for the longest time, then they swam together, surfed, and snacked. Later they formally dined at a leading restaurant, then went on to dance to the Glenn Miller Orchestra in one of the hotel's grand ballrooms.
Finally, they walked the beach to her uncle's home where, from his garden they savored the beautiful night view as far as Diamond-Head on the edge of the Pacific. The sky overhead was so much like Van Gogh's Starry Night, and being a man of action, Ken was inspired to ask her to marry him.
Bon Amour tells the story of how she answered that question, and how the years ahead gave substance to the trite old adage 'Love Conquers All.'
Ken McAdams, a graduate of Yale University, but a character who always found a way to get into trouble, and still was one who would come up with roses in the end as is reflected in "Bon Amour". Becoming a U.S. Marine fighter pilot and ultimately an international 747 command pilot, all of which he was never totally qualified for is touched upon in Bon Amour. Through this incredible story, wife Bobbye was always by his side, giving him that little extra lift every man needs whether he knows it or not.