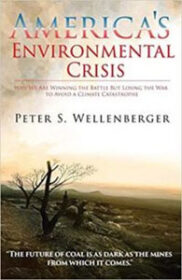 America's Environmental Crisis
For over twenty years Peter Wellenberger was the manager of the Great Bay National Estuarine Research Reserve–a federal/state partnership between the National Oceanic and Atmospheric Administration (NOAA) and the State of New Hampshire under the N.H Fish and Game Department. His work included protecting over 10,000 acres of coastal lands in partnership with The Nature Conservancy and other private entities. In 2008, he was the recipient of the Dr. Nancy Foster Habitat Conservation Award. He also served as the first Great Bay/Piscataqua Waterkeeper and founded the Great Bay Stewards, a non-profit environmental group dedicated to protecting the Great Bay Estuary.
In America's Environmental Crisis Peter shares his own experiences, as well as other short stories of climate change and nature preservation to shed light on the issues of climate change, and present some solutions.
A native of Garden City, New York, Peter Wellenberger graduated from the University of New Hampshire with a Bachelor of Science degree where he studied recreation and parks management with a minor in sociology. He earned a master of science degree in resource management and public administration from Antioch New England graduate school after completing a these on agricultural land protection.